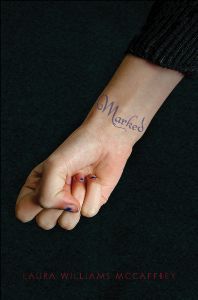 By Laura Williams McCaffrey, with illustrations by Sally Cantirino
For ages 12 and up
Published by Clarion Books
A dystopian fantasy for teens — Now available at Amazon, Barnes and Noble, IndieBound, Kobo, or your favorite bookseller in hardcover, ebook, and paperback.
On writing comics — Mixing it Up! Using Alternative Media Formats in Your Novel
Sneak peek — the first episode of Threatened Alchemyks, the serialized story Lyla reads in Marked.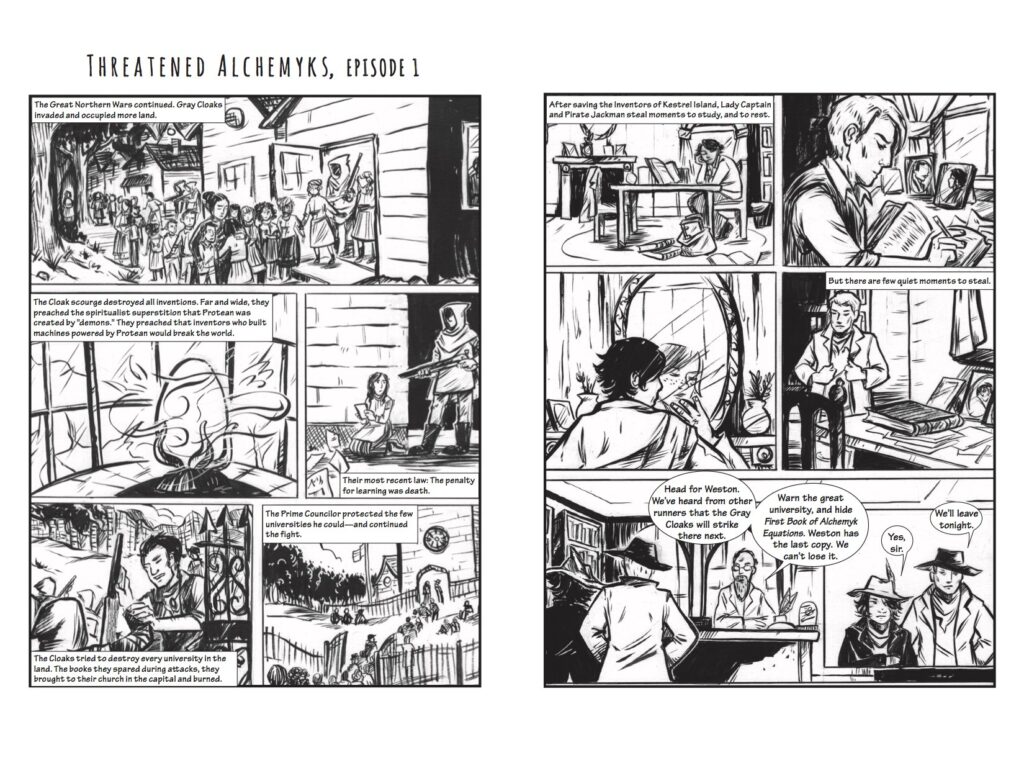 ~ Reviews ~
From Kirkus: "McCaffrey's society has a Dickensian feel to it, with a heaving, discontented underclass dominated by the barons who control the source of power and the inventors who wield it. An original, textured page-turner."
From School Library Journal, Amanda Buschmann, Atascocita Middle School, Humble, TX:"…the strength of the characters, especially the strong female protagonist, allows teens to fully engage with Lyla and her struggles. Full of fast-paced action and ethical quandaries, this work will appeal to fans of Laini Taylor's Daughter of Smoke and Bone (Little, Brown, 2011) and Carrie Ryan's The Forest of Hands and Teeth (Delacorte, 2009). VERDICT With its top-notch characters and a cool premise, this is a must-purchase for fantasy collections."
From Booklist, Stacey Comfort: "Interspersed between chapters are zine comics about the brave Pirate Jackman and Lady Captain, Lyla's favorite heroes, which add to the story without overpowering it. McCaffrey is no stranger to the YA world, and though her world building here requires some work to parse, the trendy steampunk themes will entice many readers."
From The Bulletin of the Center for Children's Books: R "Lyla herself is indecisive and driven by impulse far more than reason, but she's appealingly vulnerable; it's clear she deserves way better than life has dealt her, as do many of those who surround her. If the villains are a bit one-sided, the societal framework at least makes this believable, and the gritty, determined people trying to find their way are all the more compelling when compared with their evil adversaries." AS
From YOYA: 4Q 3P J S "McCaffrey creates a world that blends steampunk with political intrigue in a faintly Celtic setting. Lyla is a flawed heroine who becomes endearing as she struggles to recognize the good guys in her life. Fans of Gail Carringer's Finishing School series will like this one." —Diane Colson.
From ALAN Picks: "McCaffrey has created a fast-paced sci-fi thriller that comments on making difficult choices, ethical ambiguity, and the challenge in knowing how to make the right choice when there is no clear answer. Markedthoughtfully incorporates pages of the zine (told using a comic strip format) that Lyla reads, allowing readers to learn about this society in a highly creative and engaging manner.Marked offers readers a strong female protagonist who is forced to make very challenging decisions that will impact not only herself but also those around her. Lyla is a magnetic character. Readers will likely find themselves relating to her, cheering her on, and continuing to think about her long after they have finished reading." ~ Reviewed by Elle Yarborough, Portsmouth, New Hampshire
~ Summary ~
From the publisher: "Sixteen-year-old Lyla lives in a bleak, controlling society where only the brightest and most favored students succeed. When she is caught buying cheats in an underground shadow market, she is tattooed—marked—as a criminal. Then she is offered redemption and she jumps at the chance . . . but it comes at a cost. Doing what is right means betraying the boy she has come to love, and, perhaps, losing even more than she thought possible. Graphic novel–style vignettes revealing the history of this world provide Lyla with guidance and clues to a possible way out of the double bind she finds herself in."