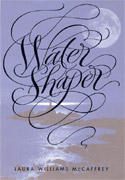 By Laura Williams McCaffrey (If you have trouble purchasing copies of this, please contact me directly.)
For ages 10 and up
Published by Clarion Books
~ Honors ~
2007 New York Public Library Books for the Teen Age list.
~ Reviews ~
"This enchanting book for Middle Grade readers draws on Celtic folklore and fairy tale motifs, stirring them up into an original story about an outcast princess with a magical affinity to water. McCaffrey deos a lovely job at evoking the plight of a lonely young woman caught between conflicting cultures, longing for a place to feel at home. Princess Margot is a memorable heroine and her story tugs at your heartstrings." — T. Windling, Endicott Studio.
— Starred Review — "Margot is a vulnerable, stubborn, sympathetic heroine, and readers will find themselves caught up in the memorably unsettling story of her first love and her disillusionment with the three convincing, well-realized kingdoms she encounters, each one more original and magical than the last…With political undertones as well as riveting personal drama, this fantasy will leave many readers looking for a sequel." — by Carolyn Phelan. Booklist, May 15 2006.
"Older girls are sure to be captivated by this seamless fantasy that incorporates a hauntingly beautiful world, a strong-minded princess, and secrets of the sea, seal-people, and what it means to be alive." — by syndicated columnist Kendal Rautzhan. "Books to Borrow…Books to Buy," June 19, 2006.
"McCaffrey shows good insight into characters here: taunted and bullied as children, both Margot and Orrin hide behind self-protective armor even while they long for acceptance, and they are unrelenting when hurt. Bird, the storyteller, edges into the story sideways, introducing doubt into the reader's perception of Orrin…and the ending is thoughtful, lending readers to question if safety is worth the loss of personal freedoms." — by KC. The Bulletin of the Center for Children's Books, June 2006.
Evocative descriptions and elements of Celtic folklore add much to this tale of a young woman's search for a place that feels like home…The real strength of this book is the descriptive language, which evokes the settings quite clearly and beautifully. Margot's struggle to make a place for herself is well realized." — by Cheri Dobbs. School Library Journal, July 2006.
"In McCaffrey's debut fantasy, Alia Waking, her heroine had a mystical connection to trees; here, in another fast-paced tale, the heroine has a similar connection to water…Readers will likely be caught up as Margot comes to terms with her magical powers and her mother's unfortunate secret." — Publishers Weekly, May 2006.
"A scorned princess yearns to find her place in the world in this intriguing adventure-fantasy…McCaffrey painstakingly constructs a complicated, imaginative universe, made up of vastly different kingdoms infused with good, bad and questionable magic that flows through holy men, demon spirits, storytellers, minstrels and herbalists. Veering off into almost a purely romantic realm, until Margot is abruptly brought up short by a shocking betrayal, this suspenseful tale sparked by Celtic folklore (and selkie lore) tackles questions of identity, women's basic rights and even censorship versus safety. Harrowing, disillusioning experiences lead Margot to make discoveries about her ancestral past, special power and future choices. Though perhaps lacking the depth and resonance of Franny Billingsley's The Folk Keeper (1999), the evocative settings, intricate plot and resourceful heroine make for an engrossing read." — Kirkus, April 15, 2006.
~ Summary ~
Margot is a princess, but she is not beloved. Her mother died when Margot was very young, leaving her with an undesirable legacy — pale skin, dark hair, and a deep love of water — traits considered strange and suspicious in her father's landlocked kingdom. Her mother also left Margot a mysterious book, passed down from mother to daughter through many generations, that smells of saltwater and hides itself from those who seek it.
When Margot meets Orrin, a foreign king from the coast who respects, even reveres, her affinity for water, she flees with him, hoping to at last find her place in the world. But all is not as she expected in Orrin's land, and when mysterious lights draw her into the Sea, Margot knows her search is just beginning.

*Jacket hand lettering © 2006 by John Stevens
Jacket photograph © 2006 by Andy Williams/ Getty Images